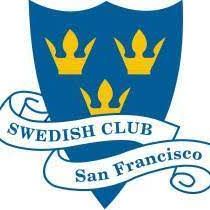 Swedish Club of San Francisco and Bay Area
Swedish Club of San Francisco and Bay Area is dedicated to the promotion and preservation of Swedish Culture in America, maintaining and improving Swedish-American friendship by providing facilities for visiting Scandinavians to meet Americans of Swedish decent and interests, and to present programs that improve understanding of other cultures, countries and traditions.


The Swedish Club was formed in 1913 by Dr. A.O. Lindstrom and a group of Swedish business men of the Bay Area. There were 18 gentlemen at the first meeting. The primary purpose of the new organization was to show courtesy to visiting businessmen from Sweden, to entertain and assist them during their stay here. They wanted to enhance relationships between Sweden and America and open up business possibilities in both directions. It was an early day networking endeavor. Their second goal was to promote and enhance Swedish culture in the new land. Membership was limited to Swedish men, their descendants and those married to Swedish women. Membership now is open to men and women with a Swedish connection and to other Scandinavians and to those interested in Swedish culture.

Club activities are held the second Wednesday of the month in Burlingame with dinner and beverages served. The programs usually feature some aspect of Swedish Culture. We have a big Julfest and Lucia party in December, an annual Crayfish dinner in the fall, wine tasting picnic and celebrate Midsummer at Sveadal in June. Membership now stands at 107 people. The members of this club have always prided themselves on having a good time while highlighting Swedish customs in music, dancing, holidays and ethnic enlightenment.